---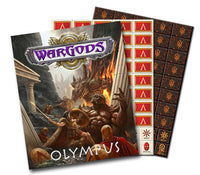 WarGods of Olympus is a game for 2 or more players that re-creates these battles of ancient mythology using metal miniatures on a tabletop. This book provides you with the rules and background that you need to play the game using the forces of Hellas, and gets you started collecting and painting your own warband of Crocodile Games miniatures.
WarGods of Olympus is a 344 page hardcover book, lavishly illustrated by some of the best artists in the miniature game industry, including Des Hanley, John Wigley, Paul Jeacock, Piya Wannachaiwong, and Tony Hough. It includes 2 sets of Command Counters.
Within you will find:
-Game Rules: How to build your warband and play the game.
-Background: The history of the city-states of Hellas, including complete rules for the following factions:
Athens
Sparta
Corinth
Mycenae
Amazons
Troy
-Gifts of the Gods: Over 110 unique powers for Demigods, inculcating the following:
Ares
Apollo
Artemis
Athena
Dionysus
Hades
Hecate
Hephaestus
Hermes
Poseidon
Zeus
-Miniature Galleries: Photos of beautifully painted WarGods miniatures and scenery.
-The Titans: Rules and background for playing the monstrous army of Titans, the greatest threat to the land of Hellas.
-Campaign Rules: An extensive chapter loaded with scenarios and subplots, allowing players to battle in the lands of the city-states, the islands of Hellas, and the dark Underworld, the land of the dead.
WarGods of Olympus is intended for mature players, not recommended for children under 14 years of age.